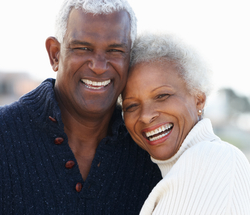 Modern Prosthetic Dental Marvels
Dental implants have improved quality of life and confidence for many American adults. Implants are replacement teeth that feature a small post placed into the jaw, topped by a dental crown. This tooth-and-root design mimics that of a natural tooth. A single implant can hold a crown to replace one tooth, or a few implants can anchor a bridge, partial, or denture.
Benefits of Implants
Why do people choose implants over traditional prosthetics? This list of benefits speaks for itself:
Can last a lifetime
Eliminate looseness and slippage of dentures
Self-sustained; do not rely on other teeth for support
Reduces potential for jawbone deterioration
Do not require special care or maintenance
Strong and durable
No special dietary restrictions
Look and feel natural
The Implant Procedure
Dr. Young attended the Misch Implant Institute, where he trained on case planning and complete implant placement and restoration. Dr. Young uses Zimmer implants, and he provides complete implant placement and maintenance in our office. This means, in most cases, Dr. Young does not refer implant patients to oral surgeons or periodontists. Instead, he provides complete procedure in our Lafayette dentist office.
Mini Dental Implants
For some, jawbone density is not ideal, so traditional dental implants cannot be placed. Bone grafting will improve a patient's candidacy for traditional implants, but there is a cost-effective alternative: miniature dental implants. These prosthetics feature a small, screw-like post that is placed into the jaw without performing surgery. Mini dental implants are often recommended to stabilize loose or ill-fitting dentures, and the cost is 50-70% less than traditional implants.
An Invitation Just for You
Call Dr. Michael Young, DDS at (337) 23-SMILE to schedule your dental implant consultation. Our Lafayette dentist office serves patients from the Youngsville, Broussard, Scott, Breaux Bridge , and surrounding communities. We are open Monday through Friday, and Dr. Young is always available to see dental emergency cases.