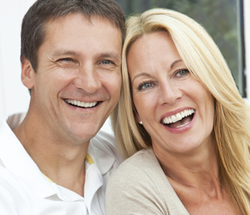 More Than a Filling
A dental filling can repair most cavities, but when a tooth incurs structural damage that compromises its long-term stability and health, a dental crown may be the best restoration. Examples of damage that may necessitate a crown include a deep or large cavity, a failing dental filling, or a fracture or chip. Crowns also secure a dental bridge and restore a tooth following a root canal procedure.
Types of Crowns
Crowns cover the portion of a tooth that is exposed outside of the gums. Most often, dental crowns for front teeth are tooth colored, made of all porcelain or porcelain fused to metal. Back teeth (molars) incur more force when you chew, so Dr. Young often recommends an all-metal crown or, if esthetics are of concern, you may prefer a white zirconia crown.
What to Expect
You will attend at least two visits to complete your crown procedure. Designing a crown requires preparing a tooth, making an impression for the lab, then attaching a temporary crown. Dr. Young will send his design and your dental impression to our dental lab, and there, a technician will fabricate your custom crown. You'll return to our office so that we can remove the temporary and place the permanent restoration.
An Invitation Just for You
Call Dr. Michael Young, DDS at (337) 23-SMILE to schedule your checkup, consultation, or second-opinion visit. Our Lafayette dentist office serves patients from the Youngsville, Broussard, Scott, Breaux Bridge , and surrounding communities. We are open Monday through Friday, and Dr. Young is always available to see dental emergency cases.