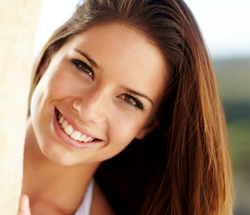 Do you feel self-conscious about your smile? If so, teeth whitening could help! Stained teeth, or teeth that are slightly discolored can shatter your confidence. Conversely, a great smile can make you feel great, can make you look years younger, and can help you feel happier.
A gorgeous white smile gives people more confidence. If you're not happy with the shade of your teeth, there are some great teeth whitening options available to you. At Dr. Michael J. Young's dental office in Lafayette, LA, there are several ways you can get a whiter and brighter smile.
We offer great teeth whitening options:
Zoom Teeth Whitening: In just one visit with the Zoom gel and light you could see a difference that equates to from eight to ten shades brighter.
Opalescence Boost Whitening: This option doesn't require special lighting, but provides great results in teeth whitening!
At Home whitening kits: Dr. Young's office also sells highly effective at home whitening kits that let you do your own teeth whitening at a lower price, while still offering great results.
Cosmetic procedures: Are traditional teeth whitening methods not getting you the results you'd hoped for? We also offer cosmetic options, such as dental bonding and porcelain veneers.
Teeth Whitening and Confidence
A dazzling white smile does bring confidence. Many people who get teeth whitening done remark that it makes a dramatic difference to their confidence, and shines through with positive results in every facet of their lives (work, play, romance). Talk to Dr. Michael J. Young today about your teeth whitening options.