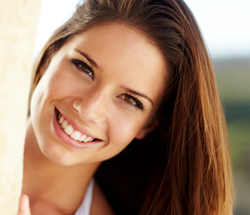 If you're interested in learning more about getting Invisalign clear braces and are in the Lafayette, LA area, Dr. Michael J. Young is an Invisalign dentist that can help you.
Invisalign Overview
Invisalign can help straighten your smile. They work much the same way as traditional metal braces do with a few major exception. They shift your teeth over time, but don't require constant painful adjustments. The best part is, Invisalign isn't as obvious as metal braces.
Invisalign trays are designed based on a program that is customized for your mouth and your desired results. Every few weeks you'll change trays and the new trays will gradually reposition your teeth.
Some Major Benefits of Invisalign Clear Braces
Invisalign trays are worn approximately 23 hours a day. You aren't advised to remove them often, but they can be removed easily when necessary.

Invisalign trays can be removed for eating and cleaning your teeth.

Invisalign trays could also help improve your jaw's alignment, helping alleviate problems such as TMJ disorder.
Find out if Invisalign is Right for You
You might be a great candidate for Invisalign. Why not make an appointment with our Lafayette, LA office to find out more about Invisalign. Dr. Young and his staff would be happy to help you explore this option for an improved smile and better jaw alignment.
Teens and adults in Louisiana and all over the country are getting straighter smiles as a result of these invisible braces. Talk to us today at 337.237.6453 to find out more about how you can leverage Invisalign for your smile.