Straighter, More Beautiful Smiles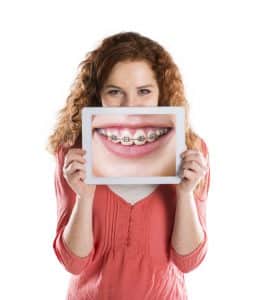 There are several common potential threats to your smile, such as gum disease and tooth decay, that can be largely prevented with excellent dental hygiene and regular preventive care from your dentist. However, malocclusion (or tooth misalignment) isn't always preventable, and if not treated, it can result in a host of increasingly worse dental issues. To help correct progressive tooth misalignment, Dr. Young now offers custom orthodontic treatment for patients of all ages. By redirecting misaligned teeth into straighter, more symmetrical positions, orthodontic treatment can improve the appearance of your smile as well as your long-term oral health and your bite's function.
The Benefits of Orthodontic Treatment
When teeth are not properly aligned, they don't meet evenly when you close your bite. As you speak, bite, and chew, this discrepancy can force your jaw muscles to work harder and place uneven pressure on some or all of your teeth. The point of orthodontic treatment is to correct the alignment of your teeth in order to ensure your bite's smooth operation, which offers a number of benefits such as:
Improved confidence: A crooked smile can affect your confidence as it can detract from your smile's natural beauty. Correcting crooked teeth with orthodontic treatment can noticeably improve your smile's appearance, and therefore your overall confidence.
Improved long-term oral health: When your teeth don't line up properly, cleaning between them can be challenging. If your toothbrush and floss can't reach between misaligned teeth, then your risks for issues such as tooth decay and gum disease significantly increase.
Improved bite function: Straighter teeth align with their opposites when you bite down, which makes opening and closing your bite smooth and easy. The longer crooked teeth are left untreated, the more often your jaw will have to work harder to compensate, which can strain your jaw and lead to severe TMJ discomfort.
Schedule an Orthodontic Consultation Today
With extensive training in progressive orthodontic treatment, Dr. Young can help patients of all ages enjoy healthier and more beautiful smiles by correcting malocclusion. To find out if you can benefit from orthodontic treatment, schedule a consultation by calling Dr. Michael J. Young's dental office in Lafayette, LA, today at 337-237-6453. We also proudly serve patients from Delcambre, Breaux Bridge, Broussard, Scott, Youngsville, and surrounding communities.