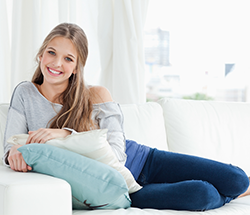 Many people in the Lafayette, LA area seek sedation dentistry due to dental anxiety. If you have fear or anxiety about dental procedures, sedation dentistry can make for a relaxing experience. Dr. Michael J. Young's Lafayette, Louisiana practice offers sedation dentistry. Nitrous oxide and oral sedation medication can help make things much easier!
Sedation dentistry isn't just for those with dental fears. Many people who opt for this choose to have it each time they need a dental procedure done. It can make the time in the dentist's chair feel quick and pleasant and can help those with TMJ disorder, as well.
Sedation Dentistry Benefits
Regardless of the sedation dentistry method used, the time in the dentist's chair can be a much more pleasant experience than having the work done while fully lucid. Sedation dentistry can be ideal for those who have a lot of dental work to be done, as the sedation makes time seem to go by faster in the dentist's chair. Patients with fear, anxiety, a sensitive gag reflex, and other issues can look forward to improving their smile and their health without the associated anxiety.
Arrange a Consultation with Dr. Young
If you have questions about oral sedation dentistry, or have dental anxiety please set up a consultation with Dr. Young to help address your questions and discuss treatment options. Sedation dentistry can be a great way to experience a visit to the dentist without the fear of dental procedures. Contact our office for an appointment at 337.237.6453.