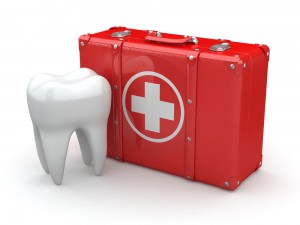 Our readers and patients know that brushing your teeth at least twice a day and flossing at least once are essential habits for maintaining your oral health. Dental issues like tooth decay and gum disease typically begin with excessive plaque buildup, which proper oral hygiene can help you limit. Unfortunately, however, the best dental habits cannot always protect you from an emergency situation, such as severe tooth sensitivity or trauma. Your Lafayette dentist, Dr. Michael Young, shares these dental first-aid tips to help save your tooth in the face of a dental emergency.
Improve Your Chances of Saving That Tooth
Severe Tooth Sensitivity: Tooth discomfort can indicate a number of different oral health issues, from tooth decay to dental trauma that has left the tooth root exposed. If your tooth suddenly becomes uncomfortable enough to be considered an emergency, rinse your mouth thoroughly with warm water, and use dental floss to dislodge any food particles. To reduce swelling, apply an ice pack or cold compress to your cheek.
Chipped, Cracked, or Broken Tooth: If possible, find and save any loose pieces of the tooth and rinse them with warm water to clear away dirt and debris. Rinse your mouth, as well, concentrating especially on the affected tooth. If bleeding occurs, stop it with a piece of sterilized gauze. Swelling is common in dental trauma cases and can be reduced by applying cold to the area.
Knocked Out Tooth: Just because your tooth has been knocked out does not mean that it is lost forever. Find the tooth immediately and rinse it with running water. Do not scrub the tooth. To preserve the tooth, place it in a cup of milk or tooth preserver solution such as Save-A-Tooth. Be sure to grab the tooth by its crown, carefully avoiding any roots or tissue fragments. Bring the tooth to our Lafayette dental office immediately, within 30 minutes if possible.
If proper steps are taken, your tooth has a good chance of survival. Even though not every tooth can be saved, however, Dr. Young offers a plethora of options for replacing one or more lost teeth to help preserve your dental health. If you live in the 70508 area and have a dental emergency, or would like to schedule an appointment with Dr. Young, call our Lafayette dentist office at (337) 237-6453.