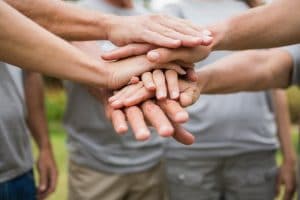 The Lafayette community isn't just about fun, but also building each other up and helping those who need it in any way possible. This January, those goals are at the forefront of several different initiatives, each of which is designed to help bring everyone in the community together for the greater good. From blood drives to help people with rare blood disorders to helping the homeless and those who need assistance with their social security benefits, you'll find a charitable cause to volunteer for no matter what your passion is!
Community Volunteering and Education
January 22nd – 3 Lives Blood Drive
Donating blood is vital, but for patients with blood disorders, it's even more so. This Tuesday, January 22nd, Remington College's Lafayette Campus is holding the 3 Lives Blood Drives event to help emphasize the need for minority blood donors for patients who experience blood disorders. Partnering with United Blood Services, Remington College will hold the drive from 9 a.m. to 1 p.m. at Remington College – Lafayette Campus, 303 Rue Louis XIV, Lafayette, LA. Minority blood donors are needed, but anyone older than 17 is encouraged to come and donate.
January 24th – Point in Time Volunteer Training
Every year, the Acadiana Regional Coalition on Homelessness and Housing (ARCH) conducts the Point in Time Homelessness Census to conduct surveys to determine how many people in the community are struck by homelessness. The annual survey is essential in creating and promoting efforts to ease and end homelessness, starting in our own community. Anyone who is 18 or older and is interested in volunteering can attend free training on January 24th, from 2 p.m. to 3:30 p.m., at the Hospice of Acadiana at 2600 Johnston St. in Lafayette, LA.
January 30th – Social Security Benefits Workshop
Qualifying and applying for social security benefits can be challenging, but for many people throughout our community, it's an essential process. To help make it easier and more convenient, the Lafayette Main Public Library is holding a free Social Security Benefits Workshop on January 30th. From 1:30 p.m. to 3 p.m., everyone is welcome to come by the library at 301 West Congress Street in Lafayette, and learn about what benefits are available to individuals with disabilities, how to qualify, how to apply, what to do if denied, and much more.
Stay Tuned for More About the Community
Lafayette's community is a strong one, and we're happy to help it come together every chance we get! To learn more, or to schedule a dental consultation, call the office of Michael J. Young, DDS, in Lafayette, LA, at 337-237-6453. We proudly serve patients who live in Breaux Bridge, Broussard, Scott, Youngsville, and all surrounding communities.