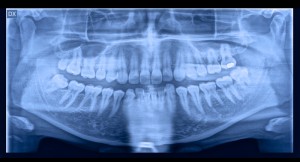 Diagnostics is the most important aspect your of cosmetic and restorative dental treatment. Without accurately diagnosing your condition, Dr. Young wouldn't be able to assess your dental health and suggest an appropriate treatment plan. Though X-rays have long been a vital resource in dental diagnostics, digital X-rays offer significantly improved and instantaneous images while producing over 80% less radiation. Still, digital X-rays are only a small portion of the technology that Dr. Young employs to maximize the results of your dental treatment.
Better Diagnostics
The best part about digital X-rays is that you can immediately view the image of your mouth along with Dr. Young on a chairside monitor. The digital images allow him to show you precisely what's wrong and where, and how treatment can restore your smile's health and beauty. To detect tooth decay in its earliest forms, DIAGNOdent helps Dr. Young spot weak spots in your tooth enamel so he can treat them before a cavity develops.
Dentistry—with Lasers!
Our dedication to your comfort and the success of your treatment extends far beyond your examination. Using innovative soft-tissue dental lasers, Dr. Young can perform minimally invasive gum surgery to trim away infected or excessive gum tissue. The laser emits a strong, focused light that heals the tissues as it passes over them, eliminating the need for a scalpel and stitches.
Sound Waves for Healthier Gums
The gum disease known as gingivitis is one of the most pervasive dental disease among adults, second only to cavities. The gum infection results when bacteria gather on the surfaces of your teeth's roots, underneath your gum line. Traditionally, gingivitis can be treated with a scaling and root-planing, which involves accessing and removing bacteria from underneath gum tissue. With ultrasonic scaling, we can perform a periodontal cleaning using sound waves to dislodge plaque and its calcified form, tartar, minimizing discomfort and allowing for faster results.
About Michael J. Young, DDS:
To request more information about how to modern dentistry can help restore and maintain your oral health, or to schedule a dental checkup and cleaning with Dr. Young, contact our Lafayette dentist office at 337-237-6453. We serve families living in Breaux Bridge, Broussard, Scott, Youngsville, and surrounding communities. Dr. Young also invites you to find us on Facebook, where you'll find news, tips, and valuable resources.