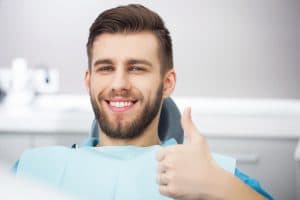 Do you get a pit of butterflies in your stomach just thinking about booking a dental appointment? If you do, you are not alone. Many Americans get anxious about visiting the dentist. The anxiety for some people is so large that it turns into a full fear or phobia. Fear and anxiety can keep people from maintaining routine dental visits, which can keep them from receiving important preventative care. Due to this, dental anxiety increases the risk of developing oral health problems. There are ways to overcome dental anxiety to make sure that you are getting the important care you need for your smile. 
Talk to Your Dental Team
If you are feeling anxious, please discuss it with your dentist or anyone on the dental team. Talking it out can be helpful for lessening your anxiety, but more importantly, talking it out gives your dental team a chance to help you. If you have a specific fear, they may be able to help you address the specific thing. If you are not sure what makes you feel so anxious, they can help you, too. Your dentist wants you to have a calm, comfortable experience. Anyone in the office can talk you through the dental process in a non-judgmental way to help you feel at ease.
Sedative Options
If some situations, your dentist may recommend sedation to help you get through dental treatment. Sedatives can help to calm your nerves while keeping you coherent and conscious through the visit. There are options of nitrous oxide (laughing gas) or oral sedatives that can be used to help you overcome your anxiety. Sedation can be an option for people that have conditions that make it difficult to sit still through an exam or treatment. Overcoming your dental anxiety can ensure that you get the treatment you need to keep your smile healthy.
We want to help make your dental visit as comfortable as possible
Dr. Young and his compassionate team are here to provide excellent, comfortable dental care. We proudly help patients from Breaux Bridge, Broussard, Scott, Youngsville, and surrounding communities. To schedule a consultation, contact us at our Lafayette, LA, dentist's office at 337-237-6453.