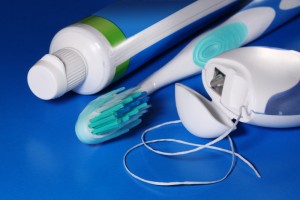 The season is ripe for the candy harvest, and children of all ages are gearing up to roam the streets searching for sweet treasures or crash monster parties to celebrate. In fact, candy largely makes Halloween the successful holiday it is today. Aside from making Halloween special, however, candy also poses a considerable threat to your oral hygiene if you're not careful. To help you protect your teeth this Halloween, Lafayette dentist Dr. Young revisits proper dental hygiene practices.
Tips for a Healthy Mouth
Brushing your teeth is perhaps the most important dental hygiene habit. If you do it incorrectly, however, it can prove more of a hindrance than a help. Be sure to gently brush your teeth using a soft-bristled toothbrush with an American Dental Association (ADA) seal of approval. Brushing too roughly, or with a stiff-bristled brush, can wear away your tooth enamel, leaving your teeth vulnerable to bacteria and infection.
The ADA also suggests brushing your teeth twice a day for about two minutes each session to ensure a thorough cleaning. Pay close attention and ensure that you brush every surface of every tooth. Brushing to a short, catchy song can help you keep track of the time during your routine.
Although most people know flossing is important, skipping this vital step can be tempting, especially if you're pressed for time. However, the spaces between your teeth, where your toothbrush cannot reach, is a favorite spot for food particles and oral bacteria to hide. Neglecting to floss could cause dental issues that will take more time to address than flossing would require.
As important as home oral hygiene is, your mouth still requires regular professional for optimal oral health. The ADA says attending a dental checkup and cleaning every six months is vital to keep your mouth clean and to improve your chances of detecting and treating oral health issues early.
Excellent Oral Health in Lafayette
If you live in the 70508 area and are in need of dental care, or would like to schedule an appointment with Dr. Young, call our Lafayette dentist office at (337) 237-6453.