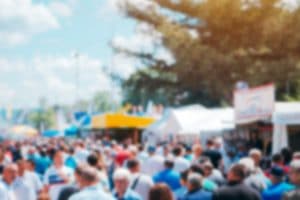 January is a special month for many reasons. Not only is it the start of the year, but there's a plethora of things to do to help get the family excited about starting the year off right! From free, fun educational activities and community pet care services to a gumbo cookoff for food lovers of all ages, Lafayette offers something for everyone to kickstart their year with a little fun and self-improvement.  
Things to Do, Places to See
January 19th – Puppies Made Pawsible
Excited about a new puppy (or several)? You'll need more than just a loving home to welcome the new member of your family. On Saturday, January 19th, Lafayette Veterinary Care Center is hosting Puppies Made Pawsible to help ensure yours receives all the care and attention they need. The event is free, and the center will offer medical, grooming, and behavior tips for puppies of all types. From 11 a.m. to 1 p.m., bring your puppy to Lafayette Veterinary Care Center at 110 Perard Street, or call (337) 984-7611 for more info.
January 26th – Annual Gumbo Cook-Off
Every January, the Gumbo Foundation holds its annual Gumbo Cook-Off to help raise support for families with members facing a debilitating disease or illness. This year, the 13th Annual Gumbo Cook-Off will be held on January 26th, at 521 East Landry Street in Opelousas, LA. The event will last all day, from 8 a.m. to 6 p.m., and registration is $50. To learn more, visit the event's registration page by clicking here.
January 31st – Dyslexia: A Walk in My Shoes
Of all types of reading difficulties, dyslexia accounts for a majority of cases, especially among children. The Reading Center's goal is to help raise awareness about the many different signs, symptoms, and challenges that come with dyslexia, and on January 31st, the center is hosting A Walk in My Shoes to help promote that goal. The Reading Center-Lafayette invites all parents to the free workshop, which will be held from 6 p.m. to 7:30 p.m. at The Reading Center at 419 Rena Drive in Lafayette. It will include exercises and activities that help you understand what it's like for children struggling with dyslexia, as well as resources to help children manage and improve their conditions.
Stay Tuned for More
Lafayette has a lot to offer, and we're proud to promote the family-friendly events that help make our community all the more special! To learn more, or to schedule a consultation, call the office of Michael J. Young, DDS, in Lafayette, LA, at 337-237-6453. We proudly serve patients who live in Breaux Bridge, Broussard, Scott, Youngsville, and all surrounding communities.