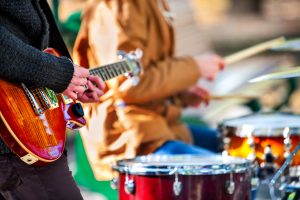 Autumn in Lafayette, LA is a beautiful time of year. It's a lovely time to get outside and there are also lots of fun cultural events going on. Between the Bach Lunch series and the Annual Latin Music Festival, there is plenty for you and your entire family to enjoy. Autumn is also a great time of year to prioritize your dental needs. With 2019 just around the corner, you want to be sure to use all of your 2018 dental insurance benefits. Whether your needs be important to your health or just simply cosmetic, we can help you with your smile. If you have questions about your benefits or your dental needs, please do not hesitate to contact us. 
Fun Events
This Friday marks the 30th year and the first week of this year's Bach Lunch series! The event is presented by the Lafayette Science Museum at the Parc Sans Souci in downtown Lafayette. The event is free to attend for all ages. Each week, you can find a different bands performing. Zydeco and Cajun music will of course be highlighted. Lunches from area restaurants are available for purchase to enjoy with the music. Food begins service at 11:15 a.m. with the live music beginning at noon.
This Saturday is the 16th Annual Latin Music Festival. The event is the Asociacion Cultural Latino- Acadiana (ACLA) and admission is free both adults and children. The event aims to celebrate and preserve Latin culture by showing off great live music, folkloric traditional dancing, arts and crafts, fresh Latin American foods, interactive activities, fun for kids, and much more!
Enjoy your weekend!
We are proud to serve the Lafayette community. To learn more, schedule an appointment with us by calling the office of Michael J. Young, DDS, in Lafayette, LA, today at 337-237-6453. We proudly serve patients from Breaux Bridge, Broussard, Scott, Youngsville, and surrounding communities