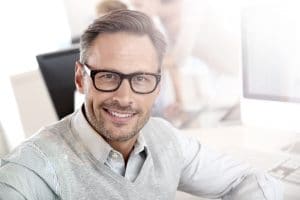 Straightening your smile is about more than your appearance. There are health benefits that come with straighter teeth. These benefits can happen whether you straighten your teeth as a teenager or as an adult. The healthy consequences of straightening your smile also include how you feel about its appearance. Increased confidence in laughing, talking, or showing off your smile are all possible effects of having a smile in which you feel more comfortable. Dr. Young and his team in Lafayette, LA is dedicated to providing you the tools to find your best smile. 
Benefits of Straighter Teeth
As stated above, straighter teeth can help with your confidence as well as help make your smile healthier. Overlapping, crooked teeth can be harder to clean than straight teeth. Bacteria is more likely to build up, which can increase your risks of tooth decay and gum disease. Oddly angled teeth can also bump into each other at ways that are abnormal. These abnormal clashes can lead to tooth breakage like chips, cracks, or worse. A misaligned smile is also more likely to put increased strain on the joints of your jaw. Straightening your teeth and properly aligning your bite can help diminish some of these risks to your oral health.
Finding the Best Way To Do It
Our office offers free orthodontic consultations to find out whether orthodontic treatment is right for you. We also offer in-house, interest-free orthodontic treatment plans to qualifying patients to help whether you do or do not have insurance. We understand how burdensome treatment can be, but we also how important it can be to your smile's health. Depending on the severity of your smile's misalignment, you may qualify for Invisalign® treatment, which is a way to discreetly reach the smile of your dreams. Invisalign® uses clear aligners to gently nudge your teeth into the proper positioning.
Do you have any questions about your smile?
We want to help you reach your smile goals. To schedule a free orthodontic consultation, call the office of Michael J. Young, DDS, in Lafayette, LA, today at 337-237-6453. We proudly serve patients from Breaux Bridge, Broussard, Scott, Youngsville, and surrounding communities