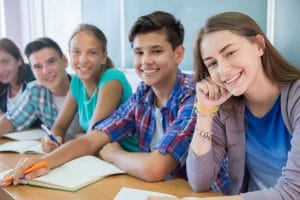 In Lafayette, LA, and throughout the rest of the country, it's almost time for school to be back in session. When it comes to back-to-school season, it can be easy to get focused on school supplies and new clothes, but health is just as important to remember. Preparing your kids' smiles for going back to school can include getting oral health supplies, planning healthy lunches, or planning preventive visits now. If your child is going back to college or going to college the first time, get their smile ready for the start of adulthood. 
Keep a Routine
Switching from summer to school time can always be a shock to the system. The family can go from relaxing days hanging out at home or going on vacation to a strict schedule throughout the week. With sports and extracurricular activities, life can get busy fast. Keeping a oral hygiene routine is crucial to keeping a healthy smile. No matter your age or your child's age, everyone should be brushing at least twice a day and flossing at least once. Having a routine before bedtime can help ensure that harmful bacteria doesn't have unlimited access to your smile all night while you sleep.
Healthy Lunches
Food filled with sugar and carbohydrates can contribute to poor oral health. Drinks filled with sugar (this includes natural fruit juice) can lead to tooth decay and gum disease by giving a feast to your mouth's harmful oral bacteria. Think about fresh fruit instead of juice to include in the lunchbox. Water is always a great beverage choice. Limit the candy and sweets especially if your child is unlikely to brush after lunchtime.
Plan a Visit Now
The laidback nature of summer may give you some extra time in your schedule to plan dental visits. Getting them out of the way now can be easier than taking your child out of school to go to the dentist. If your child is heading to high school or college, it can be a good time to check up on their wisdom teeth to see if those may need to be extracted.
Is your family ready for back-to-school season?
Healthy smiles are important for everybody all year long. To schedule a consultation, contact us at our Lafayette, LA, dentist's office at 337-237-6453. We proudly serve patients from Breaux Bridge, Broussard, Scott, Youngsville, and surrounding communities.