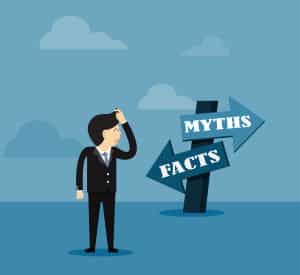 Don't break out in a sweat if your dentist recommends root canal therapy. Although root canals seem like something out of a horror flick, they actually aren't much different than getting a tooth filled. In fact, 41,000 root canal procedures are performed every day and nearly 90 percent of patients are satisfied with their treatment. Would you be satisfied if you were experiencing horrifying pain? Probably not! Today we are busting the myths about root canals.
Myths and Facts
Myth: Root canals are one of the most painful dental procedures.
Fact: Root canals got a bad reputation years ago, but with today's dental technologies, anesthetics, and/or sedation techniques, root canals are no more uncomfortable than a dental filling. Surveys have been conducted of people who have had root canal procedures and those who haven't. Those who have had a root canal are six times more likely to rate them as painless than those people who have never had one.
Myth: Dentists recommend root canals when a simple filling will suffice.
Fact: Dental fillings are for tooth decay. However, if the tooth's root becomes infected due to excessive decay; a crack, fracture, or other reason the tooth either needs to be extracted (pulled) or saved via of a root canal.
Myth: The only reason you need a root canal is because you are experiencing excruciating pain.
Fact: The pulp of your tooth is the only living part of your tooth and consists of blood vessels, nerves, and live tissue. If the pulp of your tooth becomes infected it can be very painful.  A root canal removes the infected pulp of the tooth. However, even if you are not experiencing pain, but your tooth is vulnerable to infection due to trauma, excessive decay, or some other reason, you may still require a root canal.
Myth: Your teeth cannot survive without the pulp.
Fact: The pulp in the center of your tooth helps it develop and grow. Once your teeth are fully formed, the pulp alerts you to problems by causing pain. However, as stated earlier, the pulp is the only living part of your tooth. Your tooth is not alive. Therefore, it can exist once the pulp is removed.
YOUR LAFAYETTE, LA COSMETIC DENTIST:
Michael J. Young, DDS, and his skilled team of dental care professionals happily serve patients and their families, living in Breaux Bridge, Broussard, Scott, Youngsville, and surrounding communities. To learn more, contact us today at our Lafayette dentist's office at 337-237-6453.