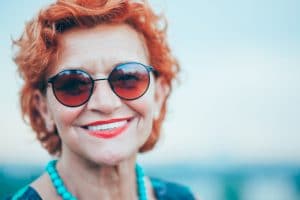 Pop culture has lead many of us to believe that orthodontic treatment is only for teenagers. Movies and television shows are filled with adolescents with a mouth full of metal. However, straightening your smile's alignment can be important at any age. A crooked smile can lead to problems beyond a wonky appearance. Bite misalignment can lead to a higher risk of damage, decay, gum disease, and jaw dysfunction. Putting your smile into a proper alignment can minimize these risks and protect your oral health. Invisalign® clear aligners can be a great choice for both teenagers and adults looking to straighten their smile. Dr. Young in Lafayette, LA can help you determine if Invisalign® is right for you and your smile. 
Protecting Your Smile
As stated above, a misaligned smile can be a risk factor for tooth damage, tooth decay, and gum disease. Tooth damage is more likely to occur because the teeth butt up against each other in unnatural ways. If the teeth hit each other at the wrong angle, there is a higher risk for tooth fracture. Overlapping teeth are harder to keep clean than teeth with proper spacing. Leftover food particles and bacteria can collect in the overlaps. The bacteria left behind may stay in your mouth long enough to allow for tooth decay and gum disease.
Protecting Your Jaw
A misaligned bite can put a lot of strain on the joints of your jaw (known as the temporomandibular joints or TMJ). Over time, it can lead to TMJ disorder, which can be a painful malfunction of the jaw. Adjusting your bite's alignment can alleviate the strain on your jaw.
Increasing Your Confidence
Invisalign® is a nearly invisible way to straighten your smile. During treatment, you will not have to worry about the appearance of traditional metal braces. After treatment, you will likely have the confidence that comes with having a straight, healthy smile.
Straightening your smile can be a healthy choice
Invisalign® can be a discreet way to straighten your teeth. To find out if you qualify, schedule a consultation with us by calling the office of Michael J. Young, DDS, in Lafayette, LA, today at 337-237-6453. We proudly serve patients from Breaux Bridge, Broussard, Scott, Youngsville, and surrounding communities