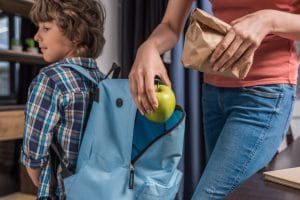 Meal prepping is a very in trend right now, which means that many adults and children are eating packed lunches. With school back in session in Lafayette, LA, if you are the prepper of meals in the family or the packer of lunches, you probably want to know some tips for easy, healthy lunches. When it comes to healthy smiles, nutrition is important. Your mouths are the first stop for good things and bad things entering your body. Moderation is key when it comes to sweets and treats, right? The same applies to the lunchbox. We have devised a few other simple tips to remember for packing a lunch with a healthy smile in mind. 
Easy on the Sweets
If you love to end your meal with something sweet or you like to send your loved one off with a treat, remember to pick something small and safe for the smile. Sticky, chewy candies can be problematic for teeth and they linger for the rest of the school/work day. Fresh fruit or unsweetened apple sauces can be sweet surprises, but if you are wanting to go for something with a little more oomph, try chocolate. Chocolate doesn't stick to the teeth in the same that caramel or hard candies can.
Careful with the Crunch
Starchy carbohydrates can be just as harmful to teeth as sugar. When wanting to add some texture to the lunch, skip crackers or popcorn (that could have tooth-cracking half-popped kernels) and opt for crunchy carrots or celery. Apple slices can be a great way to get something crunchy and a little sweet in a packed lunch!
Wellness with Water
Sugary soda is never a good choice for smart, healthy smiles. It can be especially harmful when in a packed lunch. If soda is the beverage at lunch, it means it will likely be unrinsed and linger in the mouth for the rest of the afternoon. Water in a lunch can provide hydration and rinse the smiles a bit after the meal. Water with fruit in it can be a fun treat and even carbonated water can be a great lunch choice!
Dr. Young has more smile tips for the whole family
Packed lunches can provide healthy nutrition for the smile. To schedule a consultation, contact us at our Lafayette, LA, dentist's office at 337-237-6453. We proudly serve patients from Breaux Bridge, Broussard, Scott, Youngsville, and surrounding communities.