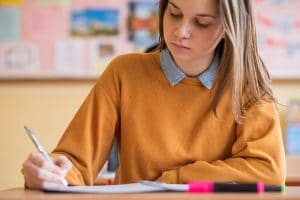 Aches and pains can intrude on quiet moments, and make stressful situations even more difficult to manage. If you struggle with TMJ dysfunction, the problems you experience can seriously hurt the quality of your life. There is no single cause for TMJ dysfunction, but the issue is rooted in troubles with your jaw joints, and/or the muscles that operate your jaw. You can experience headaches, limited or painful jaw mobility, and persistent discomfort in your neck and face. The problem can be even more worrisome if you also struggle with teeth grinding. When too much time passes without treatment, a teeth grinding habit, known as bruxism, can result in serious dental damage! Your Lafayette, LA dentist can work with you to address your troubles, and help you escape these recurring, unpleasant symptoms.
Questions
True Or False: The cause of your chronic headaches could be TMJ dysfunction.
True Or False: It is impossible for someone with TMJ problems to also grind their teeth at night.
True Or False: Without treatment, TMJ dysfunction can make it difficult to eat and speak without discomfort.
Answers
True! If you are dealing with chronic headaches and feel unsure about why, TMJ dysfunction could be the cause. Your dentist can examine you and let you know if you have issues with your jaw joints.
False! Teeth grinding can lead to TMJ dysfunction, but untreated TMJ issues can also cause a person to grind their teeth.
True! If you continue to ignore jaw problems, you may find it hard to move your jaw without some discomfort. Fortunately, your dentist can provide you with a custom appliance that will help you reduce the strain and stress on your jaw, and help you enjoy relief.
Dr. Young Can Help You Address TMJ Problems That Affect The Quality Of Your Life
If you want to make sure your daily life is free from the discomfort of TMJ dysfunction, meet with Michael J. Young, DDS! After treatment, you can put a stop to the persistent problems this issue can cause in your life. To learn more, contact us today at our Lafayette, LA, dentist's office at 337-237-6453.