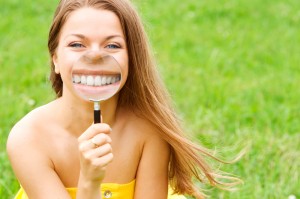 Did you know people who frown during medical procedures experience more pain? Studies show that frowning appears to bring on feelings of negativity, while smiling induces positive emotions and feelings of well-being. Maybe that's because when you're under stress your body releases the hormone cortisol, which has been associated with depression, mental illness, and a host of physical ailments. On the other hand, smiling has been proven to reduce stress and make people feel happier.  Therefore, investing in a healthy smile can truly make you happy. If embarrassment, due to a dull, aging smile, or crooked or damaged teeth, is keeping you from smiling, contact your Lafayette dentist Dr. Young, for an evaluation and to discuss your options for improving your smile.
Fake Or Genuine
Studies have shown that even a fake smile can have positive effects. In one study, participants who forced their faces into a smile using chopsticks reported experiencing more positive feelings during stressful situations than participants who did not smile. Forced smiles can decrease your stress and make you happier. Other studies have shown that smiling triggers "feel-good" hormones such as dopamine and other neurotransmitters including serotonin, and endorphins; all chemicals in our body that make us feel happy. A healthy, attractive smile increases your self-image and self-confidence. Self-confidence affects all areas of your life: personal, social, and professional.
As you age your teeth wear and become stained. Depending on the condition of your oral cavity, rejuvenating your smile may consist of more than brushing and flossing. Dr. Young provides services such as whitening, gum contouring, clear braces, and veneers. Take a look in the mirror. Do you lack confidence in your smile?
About Your Lafayette Dentist
To request more information about how to modern dentistry can help restore and maintain your oral health, or to schedule a dental checkup and cleaning with Dr. Young, contact our Lafayette dentist office at 337-237-6453. We serve families living in Breaux Bridge, Broussard, Scott, Youngsville, and surrounding communities. Dr. Young also invites you to find us on Facebook, where you'll find news, tips, and valuable resources.