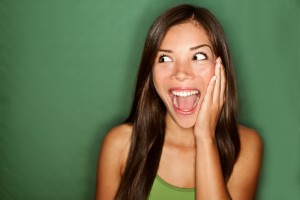 Enjoying vibrant health is all about balance. When it comes to keeping your teeth and gums healthy, you have to strike just the right balance between regular at-home dental care and professional maintenance. While it's no surprise that regular dental cleanings and checkups are a vital part of keeping your smile bright and healthy, you may be surprised to learn that many of the things you assumed about preventive dental care aren't true. Today, Dr. Michael J. Young, your Lafayette, LA dentist, reveals the truth behind dental cleanings.
A Dental Cleaning is Different from a Dental Checkup
While these two procedures are generally performed at the same preventive care visit, a dental checkup and a dental cleaning have different purposes. During a dental checkup, the dentist and hygiene team will carefully examine your teeth, gums, throat, lips, jaw, and other oral structures to determine their level of health and function. During a dental cleaning at your Lafayette, LA dentist's office, a hygienist will use a variety of tools to remove plaque and tartar (calcified, or hardened, plaque) from the surface of your teeth. In addition, the hygienist will examine the gums and check for the presence of gum disease. In some cases, patients with gum disease may undergo a procedure called a "deep cleaning" in which the areas of the teeth below the gum line are cleaned and smoothed to impede the buildup of more plaque.
Dental Cleanings aren't Just about Teeth
Although dental cleanings would seem to deal solely with the teeth (after all, the word "dental" derives from the Latin word dent meaning "teeth"), an important aspect of dental cleanings is concerned with the health of the gums. The Centers for Disease Control recently reported that 47.5% of American adults live with some form of gum disease. In its mildest form, called gingivitis, gum disease can cause sensitive gums and gums that bleed even after normal brushing. If left untreated, this serious inflammatory disorder can lead to gum pain and tooth loss and is associated with a host of systemic illnesses like diabetes, arthritis, Alzhiemer's disease, and some cardiovascular disorders. Your dentist and hygiene team take gum disease seriously and, should they identify its presence during your checkup, they will suggest different strategies for treating and maintaining the disorder.
Dental Cleanings can be Surprisingly Gentle
Unfortunately, some patients believe that dental cleanings are uncomfortable. This may be due, at least in part, to a past experience with a hygienist who was less than gentle. Dr. Young wants to reassure you that dental cleanings at his modern Lafayette, LA practice are gentle and utilize the latest dental technology. In addition to traditional instruments, your hygienist can use an ultrasonic scaler. This high-tech device utilizes high frequency vibrations to remove plaque while a constant stream of water keeps the mouth clear of debris. With ultrasonic scaling, dental cleanings don't have to hurt to be effective.
Gentle Dental Cleanings with Your Lafayette, LA Dentist
Don't forget: regularly scheduled professional cleanings are key to keeping a healthy, beautiful smile. To schedule a dental cleaning with Dr. Michael J. Young, please contact our Lafayette dentist office by calling (337) 237-6453. Located in the 70508 area, we proudly serve patients from Lafayette, Acadiana, and all surrounding communities.