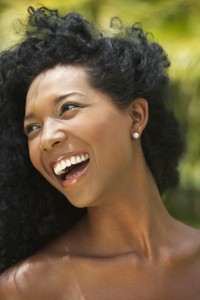 Thanks to the popularity of reality makeover shows where contestants completely overhaul their bodies, their cars, or their homes, we tend to think makeovers have to be big and dramatic. This "bigger is better" attitude even intrudes into the world of cosmetic dentistry, where many patients believe that a smile makeover has to involve complex, multi-part procedures that utterly and completely changes the look of their smile. In reality, very few patients require such drastic treatment plans. Dr. Michael J. Young, your Lafayette LA cosmetic dentist, describes just a few of the simple procedures that can noticeably improve the look of your smile.
Teeth Whitening: America's Most Popular Smile Fix
According to an American Academy of Cosmetic Dentistry survey, the one aspect most respondents would want to change about their smile is the overall whiteness and brightness of their teeth. Luckily, your dentist can provide you with several teeth whitening options depending on your unique needs. Two of the most common professional teeth whitening treatments are:
In-office teeth whitening: This convenient teeth whitening procedure takes place in your dentist's office and is usually completed in about an hour. Popular brands like Zoom! and Boost utilize powerful, light-activated or chemically-activated whitening agents to remove stains and whiten teeth by up to 10 shades.
At-home teeth whitening: For patients who prefer to whiten their teeth in the comfort of home, a professional at-home whitening kit offers an ideal solution. The process begins when your dentist takes impressions of your teeth and uses them to create custom-fitted trays. You take the trays and several tubes of whitening gel home. Following your dentist's instructions regarding when and how long you need to wear the trays guarantees you a safe and effective way to whiten your teeth by several shades.
Bonding and Contouring: Small Changes, Big Results
Bonding and contouring may not be as well-known as teeth whitening, but they can certainly improve the symmetry and overall esthetics of nearly any smile. These two procedures are a bit like polar opposites:
Bonding uses tooth-colored composite resin to add structure to the tooth. Bonding can correct chipped teeth, gapped teeth, uneven teeth, and severely stained teeth that cannot be adequately whitened with tradition teeth whitening systems.
Contouring gently removes structure to even out the shape of a tooth. Contouring can correct chipped teeth, teeth with jagged edges, overlapping teeth, and overly pointed teeth (sometimes referred to as "vampire fangs").
Simple Smile Makeovers with Your Lafayette LA Cosmetic Dentist
If you have small imperfections that mar the symmetry and beauty of your smile, we can help! To schedule an appointment or consultation with Dr. Michael J. Young, please contact our Lafayette dentist office by calling (337) 237-6453. Located in the 70508 area, we proudly serve patients from Lafayette, Acadiana, and all surrounding communities.