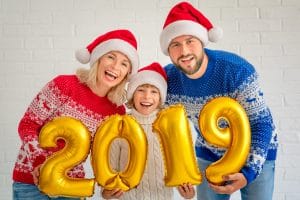 It can be hard to believe that 2018 has just a few weeks left. With the New Year fast approaching, you may have already decided on your New Year's Resolution for 2019. Maybe you have decided to work out more or finally finish that art project? If you have not decided what your resolution will be, may we offer a suggestion? What about resolving to work on your smile's health? You can talk to your dentist about specific things you could be doing to improve your oral health. You can commit to finally hitting those good smile habits. Maybe you want to eat better to benefit both your smile and your overall health. Whatever your specific smile resolution is, you can talk to Dr. Young and his team in Lafayette, LA about how best to go about making it happen. We want to help you reach your smile goals! 
Talk to Your Dentist
Your dentist is your best resource for learning how best to help your smile. You may have a healthy smile, but you want to get it looking a little brighter. You can discuss cosmetic dentistry options with your dentist. If you have alignment issues, 2019 may be the year that you opt to straighten your smile. Straightening your smile can benefit both the appearance and health of your mouth. You may have a few issues that could be addressed to improve your oral health. You and your dentist can work together to create the best treatment plan for you.
Finally Floss
Daily flossing is important to both your teeth and your gums. Unfortunately, the majority of Americans still neglect to floss their teeth at least once a day. If you have never fully committed to the habit, why not give it a try in 2019? If flossing with traditional floss is less appealing, you can put a water flosser on your Christmas list. Good hygiene habits are an important way to keep your smile in tip-top shape.
Do you have a smile resolution?
The year 2019 is a great year to get a healthier smile.  To schedule a consultation, call the office of Michael J. Young, DDS, in Lafayette, LA, today at 337-237-6453. We proudly serve patients from Breaux Bridge, Broussard, Scott, Youngsville, and surrounding communities