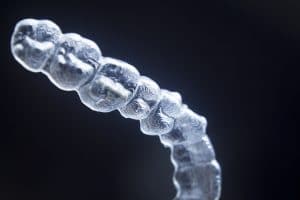 What kind of cosmetic dental improvements should you expect when you straighten your teeth with clear braces? Orthodontic improvements can lead to serious esthetic improvements. You can make your smile appear more symmetrical, and address distracting gaps and overlaps. Clear braces even provide a more attractive smile during treatment, as they can adjust your teeth without requiring you to wear distracting metal braces. It should be noted that in addition to making remarkable cosmetic dental improvements, your clear braces can also benefit your oral health.
Fixing Alignment Issues Can Make A Great Improvement To How You Look
Patients with overlapping or improperly spaced teeth may be bothered by how their smile looks uneven, or unhealthy. By correcting the position of your teeth, your clear braces can make remarkable changes to your appearance. This can lead to a big boost in your confidence, and improve your ability to navigate social and business encounters.
Other Benefits Of Correcting Alignment Problems
Alignment problems cause more than just esthetic concerns. You might not realize it, but your uncorrected crooked teeth can lead to an increased risk for cavities, gum disease, and jaw problems. Straightened teeth will be easier to completely clean, so you will have an easier time reaching formerly hard to reach portions. This straightening can also improve your ability to bite and chew naturally.
Unsure Of How To Make Positive Smile Changes? Set A Consultation To Learn More
If you want to improve your smile, but feel unsure of what needs to be done, you can talk to your dentist about a cosmetic consultation. During a consultation, your dentist can analyze your smile, and make recommendations tailored to your needs.
Talk To Dr. Young About How Clear Braces Can Improve Your Smile
With clear braces, patients can look forward to amazing improvements to their appearance, and their oral health. Dr. Young is proud to offer a range of beneficial services that can transform your smile, and offer real value for your oral health. Michael J. Young, DDS, and his talented team are happy to welcome patients and their families from Breaux Bridge, Broussard, Scott, Youngsville, and surrounding communities. To learn more about us, contact us today at our Lafayette, LA, dentist's office at 337-237-6453.