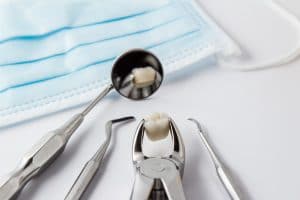 Before professional dentistry became so advanced, extracting a tooth was a common solution to minor problems like cavities or tooth damage. However, now, you have several customizable options for restoring teeth that have suffered all types of damage or infection. Yet, there are still instances when tooth extraction is the better option for the long-term health of your smile. At our Lafayette, LA, dental office, we only recommend tooth extraction when it's the most effective way of removing a serious threat to your oral health and allowing us to restore the rest of your smile.
The reason extraction is necessary
Tooth extraction, or tooth removal, means choosing to lose a tooth. Despite being a choice, the loss can still affect your smile, which is why it's typically reserved as a last resort. For example, a tooth that has suffered such intensive infection (decay) that even root canal therapy can't save it may need to be extracted before the decay can cause serious complications. The same is true for an extremely damaged tooth, one that no longer has enough support due to gum disease, or an impacted wisdom tooth (third molar) that cannot erupt from your gums properly.
The benefit of removing the tooth
If your tooth can be restored, then doing so benefits your oral health because it allows you to retain the healthy, natural tooth structure that remains. However, if tooth extraction is necessary, the performing the procedure as soon as possible also benefits your oral health in several ways, including:
Reducing the threat of complications with your other teeth
Eliminating the discomfort and resulting damage of tooth impaction
Removing the rough or jagged edges of a damaged tooth
Removing an obstruction to successful orthodontic treatment
Making way for a durable, lifelike tooth replacement
And more
Completing your smile restoration
Once your tooth has been extracted, we can restore your good oral health, your smile's appearance, and your bite's function by replacing the tooth with a lifelike prosthesis. For instance, a dental implant can replace the tooth's root and visible crown, rebuilding your smile while simultaneously preserving stimulation within your jawbone. To shorten the time between removing the tooth and replacing it, we can custom-design and plan your entire smile restoration before we perform the extraction.
Find out if your smile needs tooth extraction
When tooth extraction is recommended, it's because it's likely the only way to remove a threat to your smile and make room to fully restore it. To learn more, or to schedule a consultation, call the office of Michael J. Young, DDS, in Lafayette, LA, at 337-237-6453. We proudly serve patients who live in Breaux Bridge, Broussard, Scott, Youngsville, and all surrounding communities.