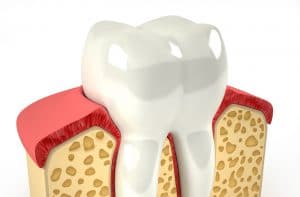 You might not always know that you've cracked a tooth, especially if it occurred gradually instead of instantly, such as from accidental trauma. However, the resulting discomfort of the damage will eventually make it obvious, and treating it will become increasingly more important. For some tooth cracks and fractures, though, fixing the damage might seem complicated, which might cause you to hesitate to seek the treatment you need. At our Lafayette, LA, dental office, we offer several different personalized options that can fix your specific tooth fracture in a minimally invasive yet highly effective way.
How a tooth cracks
Tooth cracks don't occur often because your healthy teeth are extremely resilient. In fact, they're the strongest parts of your body, and typically, can withstand immense amounts of your bite pressure repeatedly throughout the day. However, a forceful blow or the consistent exposure to excessive pressure can overpower your tooth's formidable structure. Accidental trauma, constant teeth-grinding (bruxism), poorly distributed bite pressure, chewing on ice, and more can create that type of pressure and make you much more likely to crack a tooth.
Worst-case scenarios
The problem with a cracked tooth goes beyond the discomfort that it can cause in the present. When left untreated, the damage will grow worse every time it's exposed to your bite pressure, which makes fixing it a more involved process. While the consequences of a cracked tooth depend on how bad it is and how soon you treat it, ignoring it will almost certainly lead to it becoming it worse. In extreme cases, the damage may compromise so much of your healthy, natural tooth structure that fixing it is no longer possible. To restore your smile, you may have to extract and replace the tooth.
Personalized treatment options
The good news is that even seemingly severe tooth cracks can often be treated conservatively. For example, cosmetic tooth bonding can fix minor fractures that only affect the outer layers of the tooth. If the fracture extends deep enough into the dentin (the main structure of the tooth's crown), then a porcelain veneer might be placed onto it to hold the tooth together and restore its physical appearance. For many tooth fractures, however, a custom-designed dental crown may have to be designed and placed over the tooth to completely cap it and prevent the fracture from growing.
Fix your cracked tooth the convenient way
Depending on the extent of your cracked tooth, fixing it might seem complex. Yet, with the right customized restoration, it may be much simpler than you thought. To learn more, or to schedule a dental consultation, call the office of Michael J. Young, DDS, in Lafayette, LA, at 337-237-6453. We proudly serve patients who live in Breaux Bridge, Broussard, Scott, Youngsville, and all surrounding communities.