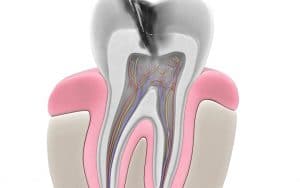 Your dental health isn't static. Your teeth can be perfectly healthy during one routine visit, and during the next, you may learn that a tooth is decaying and needs immediate treatment to restore it. Depending on the extent of the decay, you might be able to treat it by filling the cavity it caused in your tooth, or you may need more involved treatment, such as root canal therapy. At our Lafayette, LA, dental office, we offer comfortable, customized root canal therapy to help you restore your tooth's good health, but only after determining that it's the most appropriate solution.
The point of treating root canals
Root canal therapy is a comprehensive but conservative method of removing severe infection (tooth decay) from a tooth. The procedure is similar to that of placing a tooth filling – your dentist will carefully clean away infected tooth structure and tissues, then restore and protect the remaining healthy tooth structure. The difference is that root canal therapy involves cleaning out your tooth's pulp (inner chamber) and root canal, not just a cavity in its main structure. When decay reaches these structures, the pain in and around your tooth can become intense, and the threat to your oral health will be significantly higher.
Signs that your tooth is badly infected
Your tooth pain is consistent and severe – Tooth decay at any stage causes at least some level of tooth discomfort. However, when the harmful bacteria and infection reach your tooth's pulp, it directly infects the tooth's nerves and blood vessels. The significant increase in discomfort indicates the heightened threat of the decay to your tooth and the rest of your oral health.
Your tooth is changing color from within – When cavities develop, they may or may not be noticeable, depending on the specific tooth and location of the cavity. When internal decay settles in, you may see discoloration spreading through more of the tooth, even if the cavity wasn't obvious before.
Your previously placed filling has failed – Tooth fillings are a more conservative treatment that addresses tooth decay in its earlier stages. If you've had a filling placed and it fails, then oral bacteria may have re-infected the exposed tooth structure. If you seek treatment fast enough, you may be able to have filling replaced, though in many cases, root canal therapy is necessary to address more extensive decay.
Learn if you need root canal therapy
The need for root canal therapy stems from deep, internal tooth decay, and if you exhibit any of the symptoms, then you shouldn't hesitate to seek treatment. To learn more, or to schedule a consultation, call the office of Michael J. Young, DDS, in Lafayette, LA, at 337-237-6453. We proudly serve patients who live in Breaux Bridge, Broussard, Scott, Youngsville, and all surrounding communities.