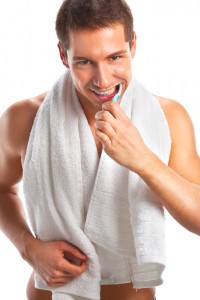 Is your dental cleaningtechnique correct? Surprisingly, this question is oftentimes answered incorrectly by many patients. While most people believe their teeth brushing skills have been perfected after years of practice, their dental exams sometimes prove otherwise. In fact, a lot of patients make common, yet easy-to-correct mistakes that attribute to less-than-perfect brushing habits.
To teach patients about common dental cleaning mistakes, your Lafayette, LA dentist, Dr. Michael J. Young shares the following information.
Common Teeth Cleaning Mistakes
Using the wrong brush. Hard bristles cause damage to both the enamel and the gum line. Instead, use a toothbrush that has either soft or extra-soft bristles to prevent any dental damage.
Also, make sure your toothbrush fits in your mouth comfortably and the handle fits well within your hand.
Insufficient brushing.

This applies to patients who don't brush for at least two to three minutes at a time. According to research the average person brushes their teeth for 60 seconds at most. To brush the appropriate length of time, set a timer for two minutes to ensure your teeth have been sufficiently cleaned.

Brushing with too much gusto.

Brushing your teeth too hard is just as harming as not brushing often enough. The best approach is to brush in gentle circles rather than brushing in a sawing motion.

Forgetting inner surfaces.

Oral bacteria goes everywhere throughout the mouth, including on the inside of teeth. Many patients brush the outside of teeth and the chewing surfaces atop of the molars. However, brushing behind the upper and lower teeth is necessary for a proper

dental cleaning

regimen.

Not using floss.

Brushing your teeth alone only cleans about 60% of the surfaces in your mouth. Yet, flossing covers the other 40% and rinsing at the end with mouthwash removes any lingering bacteria that flossing and brushing may have missed. Therefore, your

Lafayette, LA

dentist recommends that patients floss at least once a day to eliminate any plaque build-up, alongside leftover food debris, from the day's meals.
Lafayette, LA Dentist Shares Teeth Cleaning Tips
For tips and tricks on proper dental cleaning, talk to Dr. Young. With his help, you can learn the correct way to complete a daily teeth cleaning routine. To schedule an appointment with our Lafayette, LA dental practice, call us at (337) 237-6453. Also, read through our website for services, patient information, and to learn more about our team. We happily welcome patients from Pilette, Walroy, Long Bridge, Scott, Broadmoor, and neighboring cities.