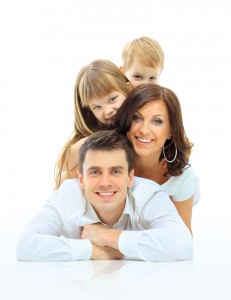 You can brush and floss your teeth religiously, and teach your children to do the same, and yet still your dental hygiene may be lacking. A toothbrush and dental floss are essential elements for a clean mouth; but much like your systemic health is at its best when you attend regular physical examinations, smiles require a schedule of professional attendance to operate at its fullest and healthiest potential. To help you understand why your family's smiles require the care of a professional, Lafayette family dentist Dr. Young explains how professional dentistry helps maintain your smile's good health.
The Care of a Professional
Many people are aware of the fact that the dental checkup is a vital part of an effective oral hygiene routine. Nevertheless, many people still postpone their exams, or neglect them altogether, without realizing the potential consequences. Both home and professional hygiene are centered on controlling the excessive buildup of dental plaque, which contains hundreds of different kinds of germs native to your oral cavity. Left unchecked, these bacteria are responsible for the development of tooth decay and gum disease, and in some cases chronic bad breath. While brushing and flossing helps control this accumulation, nobody is perfect, and some plaque may miss the strokes of your brush and the pluck of your floss. After about 48 hours, dental plaque calcifies (hardens) into tartar, and your normal hygiene routine becomes ineffective at removing it.
With careful attention to detail and the tools of a professional, our friendly and talented dental hygienist will thoroughly remove traces of plaque and tartar from your family's teeth and gum lines, reducing the threat to their oral health. If dental infection or disease manages to gain a hold of your smile, early detection at your dental checkup can help you address the issue without the need of extensive dental work.
Trust Your Family's Smiles to Your Lafayette Dentist
If you live in the 70508 area and would like to learn more about the importance of professional dental care for your whole family, schedule an appointment with your Lafayette family dentist by calling Dr. Young at (337) 237-6453. Located in the 70508 area, we proudly serve patients from Lafayette and all surrounding communities.