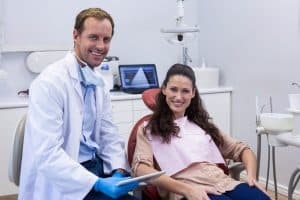 Do you feel like it might be time to inquire about orthodontic treatment for your child? Are you ready to take action against crooked teeth that have disrupted your smile? You can now tend to your needs with Dr. Young – in fact, during the summer, patients can arrange for a FREE consultation to discuss orthodontic care! At an orthodontic consultation, you can have an examination to determine what to expect from having your teeth straightened. This is an opportunity for your dentist to determine your potential needs, and a chance for you to ask any questions you might have about undergoing orthodontic work.
Orthodontics Is About More Than Just Your Appearance – Your Oral Health Benefits, Too
Many people see the clear connection between orthodontic care and their smile, but might overlook the benefits to your oral health. Patients who correct crooked teeth, and relieve any troublesome overlaps between neighboring teeth, can improve their ability to fight cavities. Without an adjustment, you would remain more likely to wind up needing restorative dental care. TMJ dysfunction is also more likely to develop when you leave your dental alignment issues uncorrected.
What You Can Learn During Your FREE Consultation
Your consultation with Dr. Young can be an important step towards making big smile improvements – for you, or for your child. This is your opportunity to receive valuable advice on what to anticipate from a treatment – if you have questions or concerns, your dentist's expertise will be available to you. In addition, Dr. Young can learn more about what kind of care you might need, and help you see what your individual treatment might involve. If you think you or a family member might benefit from orthodontics, be sure to act quickly, and take advantage of the FREE consultation available to you this summer.
Dr. Young Is Offering FREE Orthodontic Consultations This Summer!
Through the summer, Michael J. Young, DDS will be offering FREE consultations for patients interested in orthodontic care. By taking advantage of this special offer, you can take an important first step towards important smile corrections. Our office proudly welcomes patients from Breaux Bridge, Broussard, Scott, Youngsville, and surrounding communities. To learn more, contact us today at our Lafayette, LA, dentist's office at 337-237-6453.