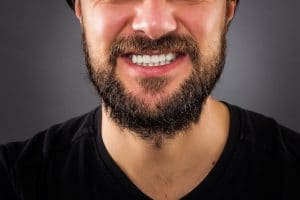 Grinding your teeth while you sleep can set you up for a not so nice morning, as you can awaken to pain and sensitivity. Patients who are dealing with bruxism can frequently and unconsciously clench their jaw during the night, leading to problems in the short term, and potentially the long term. In addition to causing discomfort, you can develop issues with your jaw joints, and experience ongoing problems with TMJ dysfunction. You can also cause serious wear and tear to your teeth. This may leave your smile looking older, and not as healthy as you would like. It can also create more serious damage, which will require restorative dental work.
How Cosmetic Care Can Address Wear And Tear On Teeth
If you are bothered by the effects of wear and tear on your teeth, you can talk to your dentist about cosmetic dental work to make improvements. With porcelain veneers placed on these teeth, you can make your smile look healthy again, and you can even improve other concerns, like discoloration. It should be noted that if your teeth grinding habit has not been addressed, your veneers could be damaged.
Put A Stop To Harmful Teeth Grinding Before You Suffer Serious Dental Damage
You can receive a special mouth guard from your dentist that will stop teeth grinding from doing harm to your smile. This custom insert will help you avoid chips, cracks, and other damages that can be potentially serious. Patients who suffer problems as a result of bruxism can require dental crowns to cover significant damage.
Dr. Young Can Help You Deal With The Effects Of A Teeth Grinding Habit
Are you struggling with a teeth grinding habit? Michael J. Young, DDS can help patients protect their smiles from this issue, while also discussing treatments to help them repair unsightly damages. Because our office can supply you with a range of procedures, you can have your needs fully met without having to set appointments with multiple specialists! We provide care for families in Breaux Bridge, Broussard, Scott, Youngsville, and surrounding communities. To learn more about our practice, contact us today at our Lafayette, LA, dentist's office at 337-237-6453.