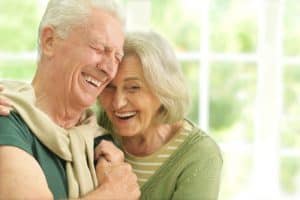 When was the last time you smiled confidently? What about when you last enjoyed a meal, comfortably? Was it before your tooth loss? As a child, losing a tooth can prove an exciting rite of passage, and a chance to enjoy a treat – or two- from the Tooth Fairy. Unfortunately, for adults, tooth loss rarely elicits excitement or joy. Instead, it can cause feelings of frustration, embarrassment, and uncertainty. While the Tooth Fairy cannot come to your aid, a restorative dentist can! In fact, you might be pleasantly surprised to learn just how modern prostheses make it possible to rebound from tooth loss with both restored comfort and confidence!
Unsupported Dentures Are a Fast Solution
One of the fastest ways to complete a smile after tooth loss is through the use of partial or full dentures. This is why many patients continue to choose dentures, which are also one of the most affordable prostheses available.
That said, for many patients, the insecurity they feel when wearing unsupported dentures, makes them a less-than-appealing long-term solution. Instead, many opt for the added benefits they can experience by choosing either dental bridges or dental implants to complete their smiles.
Bridges and Dental Implants Can Provide More Security
Dental bridges are another fast treatment option, yet they offer more stability, because they involve stabilizing a replacement tooth through the use of crowns affixed to remaining teeth. This creates added security, without the need for time-consuming restorative measures, as is the case with dental implants.
That is because implants rely on a surgically placed mimic root (a titanium base), which then stabilizes the chosen prostheses, such as a pontic, a full crown, or even a partial or full denture. Because oral surgery is involved, implants take longer to complete. That said, they are considered the most permanent and stable prostheses available, which is why many patients choose to complete their smiles with dental implants.