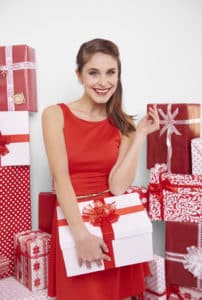 When was the last time you loved your smile? Were beehive haircuts in style, or bell bottom jeans? While fashion trends come and go, there is one accessory that is never out of style or even out of season, and that is a beautiful and bright smile. To help make your teeth really dazzle, professional teeth whitening could likely help. Of course, there are other cosmetic treatments, as well, that can help to create a brighter and generally more beautiful smile. So, if what you really want this Christmas is to feel proud of your pearly whites, at last, stop waiting to see what Santa brings you, and start talking to your cosmetic dentist about how a customized smile makeover could help give you the confidence you really want.
Discoloration Does Not Have to Be Permanent
Many people don't realize that while the teeth are made of a strong material called enamel, this substance is still porous, which means that stains can begin to penetrate the surface of the enamel over time. This can lead to noticeably darker teeth, and even smiles that appear yellow, grey, or otherwise discolored, and teeth stains can cause a great deal of insecurity.
Professional whitening helps by using safe whitening agents to help break up surface-level stains, and then to gently but effectively remove them, often lightening teeth up to eight shades. Perhaps best of all, professional treatment is designed to create noticeable results, quickly, often in as little as a few weeks, for take-home options, and in a few hours, for patients that choose in-office whitening treatment.
Enjoy Natural-looking Smile Enhancements
If you are looking to help hide other flaws, like spacing or size issues, or to generally improve the overall beauty of the smile, then you might want to consider cosmetic bonding or porcelain veneers, both of which can help address a host of issues, with beautiful results.