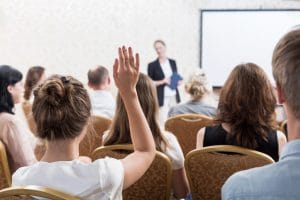 If you want to make significant cosmetic changes to your smile, you may be interested in finding out how porcelain veneers can help you. You may have already seen how veneers can transform a person's smile by addressing all visible flaws, but you might be unsure of how they can help you. If you have questions about porcelain veneers, your dentist can help. You can arrange a time to talk about the potential benefits, confirm that you are a good candidate, and learn more about what the placement process is like. Individuals looking to boost their appearance can see positive changes that last for many years when they have veneers placed on their teeth. 
How Long Will It Take Before I See Results?
It will take two appointments to have your veneers placed. The first visit focuses on taking measurements for your veneers, and preparing your teeth to receive them. Your follow-up visit will occur after your dentist has received your custom veneers.
Am I A Good Candidate For Receiving Porcelain Veneers?
Many people who are interested in veneers can qualify for them. There may be existing problems with your oral health that need to be addressed before moving forward. Because veneers are permanently secured to your enamel, your dentist will need to make sure your teeth are healthy enough for this to take place.
Will Porcelain Veneers Affect How I Take Care Of My Smile?
Your daily oral health routine can remain largely unchanged by the placement of veneers. One thing you should be careful of is the risk for discoloration. Veneers are stain-resistant, but it is possible for stains to form, especially if you favor dark liquids on a regular basis.
Interested In Porcelain Veneers? Talk To Dr. Young!
Are you ready to see how porcelain veneers can address the problems affecting your smile? Michael J. Young, DDS is proud to offer valuable cosmetic dental treatment, and can provide you with a terrific smile makeover. We offer cosmetic, restorative, and general dental services to individuals from Breaux Bridge, Broussard, Scott, Youngsville, and surrounding communities. To learn more, contact us today at our Lafayette, LA, dentist's office at 337-237-6453.