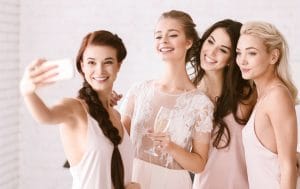 Spring is nearly over and summer is upon us, which means that we are in a very busy wedding season. Whether you have your own wedding coming up, somebody else's big day, or if you have another big life moment altogether, you want to look your sharpest. Brightening your smile with cosmetic dentistry can be a way to get yourself ready for wedding photos. Depending on your smile's needs, a cosmetic treatment can be an easy and efficient way to make a huge impact on your appearance. Planning early is important when it comes to brightening your smile for a specific event. 
Meet With Your Dentist Early
One of the first steps of cosmetic dentistry is for you and your dentist to discuss your smile goals together. Making a consultation weeks or months ahead of your big event can give you enough time to get realistic feedback on what can be accomplished in the time that you have. Together you can create a plan of action based on your goals, needs, budget, and time. If you wait until the last minute, you may learn that some of your goals are not attainable in a short amount of time. Keeping up with your routine dental visits, at least twice a year, can also give you a chance to discuss your smile goals with a big enough window to reach them. It can also help you avoid surprises like a toothache from ruining your big day.
Keeping Up Your Daily Routine
If you are planning your own wedding or even if you are just planning to attend one, it can get busy and stressful. Being stressed out and busy can make it easy to put taking care of yourself on the back burner. However, it remains absolutely essential for your oral health that you keep brushing and flossing your teeth at least twice a day.
Do you have a big event to get your smile bright for?
Talk to Dr. Young about getting your smile brighter for your wedding or big event. We proudly help patients from Breaux Bridge, Broussard, Scott, Youngsville, and surrounding communities. To schedule a consultation, contact us at our Lafayette, LA, dentist's office at 337-237-6453.