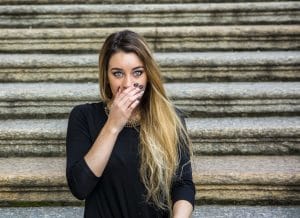 A "jagged smile" is a term that typically refers to teeth that are unevenly shaped or sized. The unevenness and asymmetrical nature can make the smile look a little jagged or uneven. In a lot of cases, this type of smile is caused by teeth that are uneven shapes and/or sizes. Each individual tooth may be jagged in nature, which can contribute to the jagged appearance of the smile overall. In some situations, the teeth are not to blame for the uneven appearance. Gum tissue can contribute to a uneven smile, too. In other situations, the teeth may actually be aligned in a way that is asymmetrical, which means the problem goes beyond appearance. For each different type of situation, there is a different type of solution. Your dentist in Lafayette, LA, can help you determine why your smile appears to be jagged and help you find a way to address it. 
Bonding/Contouring Teeth
If even just a few of your teeth are larger or smaller or pointier than the rest, it can make the entire smile look off. If you have any teeth that are smaller or oddly shaped, a composite bonding can be applied directly to the teeth to make them look more like the rest of your teeth. If your teeth are larger or pointer than the others, a treatment called contouring can be done to shave off some of the excess tooth. Both treatments can be done inside one smile to help create symmetry within your smile.
Porcelain Veneers
If your entire smile is affected by cosmetic issues or if your teeth are too small for cosmetic bonding, porcelain veneers may be your answer. Veneers can be customized and created to cover your entire smile with new, natural looking fronts.
Contouring the Gums
If your gum line is uneven, it can make your teeth look uneven. Gum contouring can be done with laser technology to create a more even aesthetic to your smile.
Beyond Appearance
If your teeth are misaligned, it can lead to many problems for your smile's health. Orthodontic treatment may be the path for creating a more even smile while also decreasing your risks for tooth decay, gum disease, and more.
Are you unhappy with your uneven smile?
A "jagged smile" is something that can be addressed. To schedule a consultation, contact us at our Lafayette, LA, dentist's office at 337-237-6453. We proudly serve patients from Breaux Bridge, Broussard, Scott, Youngsville, and surrounding communities.