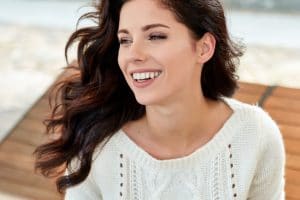 When your teeth are stained, professional teeth-whitening may be the first solution that comes to mind. As one of the most convenient cosmetic dental treatments, teeth-whitening is well-known for its ability to successfully erase most types of external teeth stains in a highly conservative manner. At our Lafayette, LA, dental office, we often perform customized teeth-whitening to help patients regain the youthful, healthy, and blemish-free appearance their smiles deserve. However, before recommending it, we'll ensure that teeth-whitening will work by performing a thorough, comprehensive examination of your teeth and oral health.
The process of whitening stained teeth
Teeth-whitening is a topical solution that you apply the surfaces of your teeth. The strong but safe bleaching solution is designed to gently break up the stains on the enamel of your teeth and brighten the main tooth structure underneath it. For optimal convenience, you can choose how the solution is applied – either at home or during a single visit to our office. A custom-designed take-home kit will include a set of trays that fit comfortably over your teeth and allow you to apply the bleaching agent evenly for a couple of hours each day (usually for about 10 days).
Before your treatment
Professional teeth-whitening is highly effective, but only for the types of stains that commonly develop on your tooth enamel (known as extrinsic staining). For the types of discoloration that develops underneath your enamel, known as intrinsic staining, teeth-whitening treatment won't be as successful. Before we suggest it, we'll carefully examine and diagnose the nature and extent of your teeth stains. If necessary, we may recommend a more involved treatment option, such as placing highly lifelike porcelain veneers over your discolored teeth. If a tooth is discolored due to internal decay or damage, then a custom restoration (such as a tooth filling) may be more appropriate.
If whitening won't work
The reason why teeth-whitening doesn't work for more severe discoloration is because, as a topical solution, it can't reach the source of the discoloration. However, it's also ineffective because such types of discoloration are often the cause of a more serious underlying issue that requires attention. The goal of your treatment will be to not only improve your smile's appearance, but to preserve, improve, or restore your overall oral health, as well. Therefore, we'll ensure to address the cause of your discolored teeth as well as their impacts on your smile's appearance.
Brighten your smile the right way
Teeth-whitening is one of the most common and convenient cosmetic dental treatments, but that doesn't mean it's the ideal treatment for every case of stained teeth. To learn more, or to schedule a consultation, call the office of Michael J. Young, DDS, in Lafayette, LA, at 337-237-6453. We proudly serve patients who live in Breaux Bridge, Broussard, Scott, Youngsville, and all surrounding communities.