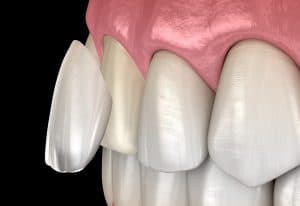 Sometimes, it's easy to ignore a blemish on your tooth here and there, especially if it isn't that obvious at first. However, most types of blemishes grow worse over time, and by the time you notice them, you may have multiple different issues to address in order to restore your smile's healthy, beautiful appearance. Making over your smile might seem like a huge challenge, but at our Lafayette, LA, dental office, we can often design a customized smile makeover using one or more porcelain veneers. The thin, lifelike shells can address a wide variety of issues at once, allowing you to completely makeover your smile almost instantly.
Things porcelain veneers can address
Veneers, which are wafer-thin shells of porcelain that are designed to mimic the appearance of your teeth, are bonded to the fronts of appropriate teeth. Rather than targeting a small area of the tooth, a veneer completely transforms its appearance without having to dramatically alter its structure. This gives veneers the ability to address multiple types of concerns, from severe tooth discoloration to chips, cracks, spaces, minor alignment issues, and more. Because every veneer is crafted and placed individually, you can have several of them placed without affecting the natural look of your smile as a whole.
The point of a custom smile makeover
Smile makeover plans are designed for patients who want to improve their smiles' appearance as well as their bite function. Because everyone's smile is unique, this process requires different treatments and techniques, according to each patient's specific needs and preferences. However, the goal of customizing your smile makeover process is also to achieve maximum results with minimal permanent changes to your healthy, natural tooth structure and oral tissues. Porcelain veneers help you achieve all of those goals with optimal results by creating a smile makeover just for you that can be completed with just a single procedure.
Creating your makeover with veneers
Although porcelain veneers can be ideal solutions for a wide variety of concerns, we'll perform a comprehensive diagnostic examination to determine that they're the best solution for improving your smile before recommending them. If appropriate, we can precisely diagnose your specific smile concerns and design a treatment plan to create and place one or more veneers on the appropriate teeth. In addition to improving each tooth's appearance, your veneers will improve your smile's overall contour and symmetry, as well, ensuring the most satisfactory smile makeover results.
Create your new smile with porcelain veneers
Porcelain veneers embody the dual goals of a smile makeover – to improve your smile's appearance and to preserve your healthy tooth structure as much as possible. To learn more, or to schedule a consultation, call the office of Michael J. Young, DDS, in Lafayette, LA, at 337-237-6453. We proudly serve patients who live in Breaux Bridge, Broussard, Scott, Youngsville, and all surrounding communities.