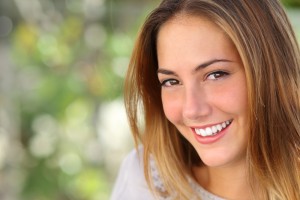 Veneers were once only suitable for Hollywood make-up artists to use on actors. Picture someone playing a historical figure, for example. Dental veneers had the ability to change a movie star's entire look. Unfortunately, it was the adhesive that posed a problem, making veneers temporary. Luckily, innovation has made veneers a viable cosmetic solution for the average Joe or Josephine. With extensive experience in general and cosmetic oral health care, your Lafayette cosmetic dentist, Dr. Michael Young, has made over many happy smiles through the use of porcelain dental veneers.
What are Porcelain Veneers?
Porcelain veneers are one of the most versatile ways to perfect a smile that you aren't completely happy with. Tough stains that don't respond to whitening, deep cracks and chips, jagged edges, wide gaps, over-crowding – many of these issues can be dealt with through this one simple procedure. Porcelain veneers utilize extremely thin wafers of porcelain which are placed on your teeth, adhered by a very strong bonding agent. Once stuck tightly, your veneers can be shaped and shined to give the appearance of natural teeth while perfecting issues with your smile.
A Smile Makeover with One Procedure
Smile makeovers sometimes involve a plethora of dental procedures, but porcelain veneers may be all you need. All that is required is a desire to change the way your teeth look, and a healthy foundation to create the smile you've always wanted. Dr. Young may recommend some minor restorative work before cosmetic procedures will be viable. Once you have a clean bill of health, however, you can give the green light for veneers. After measurements are sent to the lab, minor preparation will be done on your imperfect teeth. Once the porcelain shells have been sent back to the office, you will be ready to undergo this simple procedure that will give you unprecedented results.
Porcelain Veneers & More with Your Lafayette Cosmetic Dentist
If you live in the 70508 area and would like to learn more about giving your smile a makeover with porcelain veneers, schedule an appointment with your Lafayette cosmetic dentist by calling Dr. Young at (337) 237-6453.