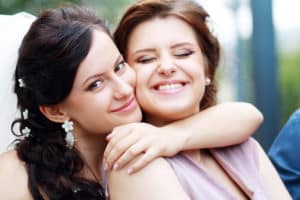 Do you want to dazzle friends when you head out on your next joint vacation? Maybe you are feeling concerned about the way you will look in photos, when you attend your cousin's wedding later in the summer. Whatever your motivation for finally addressing the imperfections with your smile that have caused you to feel insecure for years, your cosmetic dentist can certainly help you achieve a smile you will actually enjoy showing off! Through a single treatment, or through several combined as part of a custom smile makeover, cosmetic dentistry can leave you with a dazzling smile you'll be excited to showcase through the remainder of the summer and heading into all your new adventures!
Could Professional Teeth Whitening Make Your Smile Shine?
If your primary or only cause of concern is simply staining or discoloration, then professional teeth whitening might be ideal for you. Professional whitening offers faster and more effective results than most over-the-counter whitening options. In many cases, professional teeth whitening can lighten teeth by eight or more shades, often in as little as a single office visit, or two weeks of at-home treatment.
Plus, professional treatment comes with the added expertise of a cosmetic dentist, who can help ensure your smile is ready for treatment.
Keep in mind that cosmetic dental treatments are best performed if your smile is already healthy and your teeth clean. If it has been more than six months since your last dental checkup and cleaning, it is best to first schedule a routine preventive dental visit, before embarking on a smile makeover. That is because plaque buildup can cause the teeth to look discolored, and untreated cavities can make even a simple whitening procedure uncomfortable or even painful.