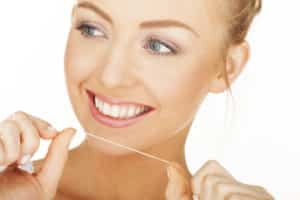 Are you concerned about the vibrancy of your smile, namely have you become embarrassed by noticeable stains on the surface of your teeth? If so, have you spoken to a dentist about what can be done to help create and preserve a more dazzling smile? There are actually a number of simple tips that can be used at home to help keep your smile healthy and bright. Of course, cosmetic dentistry, like professional teeth whitening, can also help you achieve a whiter and brighter smile!
1.    Brush and floss daily.
One of the best ways to keep your smile healthy and free of visible plaque buildup known as tartar, is by brushing and flossing daily, as part of a diligent dental hygiene routine. This cuts down on both the food particles and bacteria that remain in your mouth, which in turn can help to keep both the teeth and gums clean and healthy, in between dental visits.
That said, keep in mind that routine professional cleanings are also essential to keeping the smile healthy. Most people need to visit the dentist at least biannually to keep their smiles free of dental problems.
2.    Avoid staining foods and drinks.
Another way to keep your smile bright is by avoiding foods and especially drinks that are particularly acidic and/or staining. That is because drinks tend to stay longer on the teeth, leading to more staining and potential acid erosion, the kind that causes cavities.
A few of the drinks that can create a great deal of staining include coffee, dark teas, sodas, and red wines or grape juices.
When you do notice visible staining, consider professional teeth whitening, which can help erase those stains and leave teeth noticeably whiter.