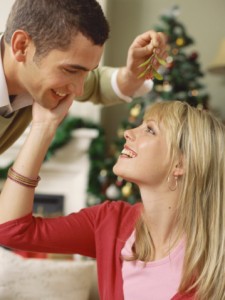 Why are you smiling this holiday season? Family, friends, and gifts can leave you in a pleasant mood throughout this time of year. Dr. Young can give you even more reasons to smile.
Why should you smile?
The act of smiling releases endorphins that help elevate your mood. Holiday planning can be stressful, but smiling helps reduce stress and lower your blood pressure. The holidays are also a time of joy to make others smile, and since smiles are contagious, try smiling just to make others feel good. In addition, you want to look happy in your holiday pictures. Smiles make you look more attractive and younger.
A new smile can help you smile more
Dr. Young offers restorative and cosmetic treatments to enhance your smile, so you'll want to smile more.
Clear braces: Crooked teeth are difficult to clean, causing cavities, gum disease, and other dental problems that make your smile even worse. In addition, wire braces can make you want to hide your teeth even more. Fortunately, Dr. Young offers Invisalign clear braces to secretly straighten your grin.
Breath treatment: If your breath smells bad, you might be embarrassed under the mistletoe. Dental problems, poor hygiene, and other health issues can contribute to smelly breath. Dr. Young can determine the cause of your bad breath, and help you get plenty of fresh kisses.
Cosmetics: Yellow and chipped teeth can be unpleasant to look at. Veneers, whitening, and other cosmetic treatments can help enhance your smile to improve your appearance and make your smile as white as the wintery snow.
Implants: Don't miss out on making memories just because of missing teeth. Dental implants and dentures can help fill in the gaps and restore your complete smile.
If you know your teeth are healthy and beautiful, you can smile confidently. Dr. Young can give you something to smile about and get you ready for holiday pictures. Contact Dr. Young at our dentist office in Lafayette, Louisiana at (337) 237-6453 to enjoy the holidays full of smiles.