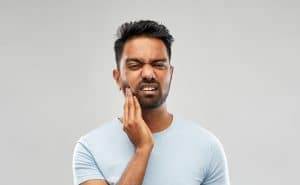 If you just spend a little time toughing the matter out, you can wait for a toothache to subside on its own, and avoid a trip to the dentist's office…right? This mindset can lead to trouble for your oral health. The pain in your tooth can be a symptom of a cavity, one that is serious enough to start affecting your pulp. When this occurs, you can suffer discomfort, and experience sensitivity issues. Treating the problem may call for a root canal procedure to make sure the matter is fully resolved. Your Lafayette, LA dentist's office is ready to help you determine what is happening with your aching tooth before scheduling the appropriate restorative dental care.
Should I Be Worried That My Cavity Is Causing Me Discomfort?
If your cavity is making you uncomfortable, you could be feeling the effects of decay serious enough to reach your pulp. The condition of your pulp is important to the overall well-being of your tooth, because this chamber is where a tooth's living tissues are held. Bacteria in this area of your tooth can do significant damage, and – if nothing is done in time – spread through your roots to create additional issues. Putting off a cavity treatment for too long may leave you with no option left but to have the tooth removed!
Making Your Restorative Dental Treatment More Comfortable
While the cavity that sends you to your dentist can be uncomfortable, the experience of having it addressed can be more pleasant than you expect. For advanced dental work on an infected tooth, your dentist can recommend dental sedation to keep you comfortable. Our practice also takes care to provide attractive restorations. If you come in for a root canal treatment, your dentist can provide you with a dental crown that protects your tooth, and preserves the way you look!
You Can Avoid Serious Problems With Tooth Decay When You Attend Regular Exams
You can have dental decay stopped before a cavity exposes you to an infection. While you may not notice signs of trouble on your own, you can have issues discovered by your dentist during a routine dental checkup! These visits play an important role in keeping your teeth in top quality shape. In addition to finding problems, and suggesting early intervention, your dentist can help you avoid issues by making sure you have an expert teeth cleaning at every checkup.
Talk To Dr. Young About A Worrying Pain In Your Tooth
Michael J. Young, DDS is prepared to help people in and around Lafayette, LA deal with a problem that causes dental pain! Our practice offers a modern approach to restorative dental work, so we can focus on your comfort, and make sure that your smile still looks attractive after you undergo care for decay. To learn more, contact us today at our Lafayette, LA, dentist's office at 337-237-6453.