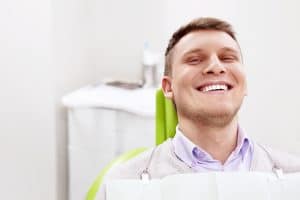 If your tooth becomes vulnerable because of tooth decay, or due to an injury, lasting protection will be needed. In many cases where oral health problems occur, the proper solution will be the placement of a dental crown. At our Lafayette, LA dental practice, our restorative dental services include the use of dental crowns to protect your tooth. We can take detailed measurements of an affected tooth, and provide preparatory work before your crown is set in place, to ensure that your restoration fits properly. When your custom dental crown is ready, we can set it on your tooth, ensuring that you are defended against an infection, while also allowing you to bite and chew without concerns about your vulnerable tooth!
The Right Crown Will Provide Important Support For Your Dental Function
There are multiple materials that are used to create custom dental crowns. If the tooth being treated is hard to hide when you smile, you can be understandably concerned with how your restoration will look. The materials used to make crowns include porcelain and zirconia – both materials can do a wonderful job imitating your tooth structure. If you need treatment for a molar or premolar, your dentist can talk to you about stronger materials that are more capable of holding up against biting and chewing pressures. Your options include porcelain-fused-to-metal crowns, which can offer great functional support in addition to cosmetic support.
Arranging The Placement Of Your Custom Crown
Before your dental crown is made and placed, your dentist will need to do important work with your tooth. If your troubles stem from tooth decay, there will obviously be treatment to remove damaged and unhealthy material from your tooth before it is restored. Your treatment process will also see your dentist use tools to digitally measure the tooth, so a perfectly sized crown can be made. After this occurs, you will have preliminary work done on your tooth's exterior to make space for your restoration. Once a crown is ready, it will be secured in place, and you can feel confident in the condition of your tooth, and your smile!
The Relationship Between Preventive And Restorative Dental Care
If you want to avoid a problem that might require a dental crown, make sure you are consistently seeing your dentist for routine dental checkups. At these visits, any issues that may necessitate treatment can be recognized in their early stages – this can ensure you have a dental filling placed, rather than a crown. Of course, because these visits provide you with guidance on better care at home, and professional teeth cleanings, they also make it easier for you to avoid problems like tooth decay entirely!
Talk To Dr. Young About Receiving A Custom Dental Crown
At our Lafayette, LA dental practice, Dr. Young is ready to help patients enjoy fantastic smile care! To learn more, contact us today at our Lafayette, LA, dentist's office at 337-237-6453.