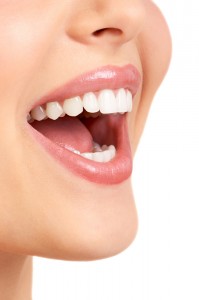 Wondering how to achieve the whiter, sparkling smile you have been wishing for? Fortunately, you have a wide variety of options at your disposal. However, we find that patients often feel excited at the prospect of a glowing grin but feel uneducated about their treatment options. To provide you with an overview of what you can expect, we have gathered answers to common questions about teeth whitening. Give the following a glance for a good start toward deciding which option is best for your smile goals:
Question #1: Are My Teeth Too Discolored?
We will find a solution for you regardless of the level of discoloration you experience. If your teeth display discoloration too severe for teeth bleaching, we will provide you with additional options for more extensive coverage, such as porcelain veneers.
Question #2: Can You Whiten My Teeth Quickly?
Yes. We offer a variety of in-office treatments formulated to protect your teeth from sensitivity and damage. Within a single visit – and typically under two hours – you may enjoy a dramatic smile transformation for a whiter, brighter appearance.
Question #3: What If I Prefer Home-Whitening?
No problem. We offer at-home whitening that you can use in the comfort of your own home and according to your schedule. You will wear custom-fitted trays once a day for approximately two weeks to achieve exceptional results.
Question #4: Can You Treat Most Stains?
Yes. Even if you suffer from medication side effects, discoloration from staining agents like tobacco or tea, or the natural effects of aging, we will provide you with teeth whitening solutions, so you can achieve a dazzling smile.
ABOUT YOUR LAFAYETTE GENERAL DENTIST:
Michael J. Young, DDS, and his skilled team of dental care professionals happily serve patients and their families, living in Breaux Bridge, Broussard, Scott, Youngsville, and surrounding communities. To learn more, contact us today at our Lafayette dentist's office at 337-237-6453.