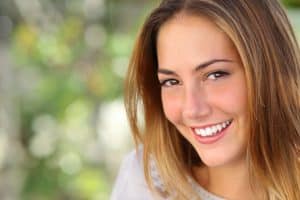 So you want a whiter smile…how are you going to make that happen? Through the cosmetic dental work provided by your dentist, you can gain remarkable results. A professional whitening treatment allows you to use products that offer a means of addressing enamel stains that exceeds what you can gain from store-bought products. When you opt for this procedure, you can actually talk to your dentist about having an in-office treatment performed, or doing it yourself, with a professional-strength take-home whitening kit. Of course, not everyone is best served through these approaches. Your dentist may recommend using a different cosmetic dental treatment altogether, in order to enjoy the best possible outcome.
Using An In-Office Or At-Home Whitening Treatment Can Eliminate Enamel Stains
How do we wind up with stains in our enamel? Unfortunately, this is a common problem that results from many popular foods and drinks. The problem can also be exaggerated for people use tobacco products. With the whitening agents supplied by your dentist, you can target those stains, and make big improvements. You have the option of setting up an appointment where your dentist will apply these gels, and use a special light to speed up its effects. A take-home kit will let you safely apply these gels to your teeth, and can lead to comparable results.
Other Cosmetic Treatments That Can Make Your Smile Brighter
If you have stains that come from external sources, a whitening treatment can be ideal. So what should you do if you have internal problems causing discoloration? In these circumstances, another cosmetic treatment can be better for your smile. With porcelain veneers, you can address these internal issues. Veneers are also effective when you have other problems affecting how your teeth look.
Talk To Dr. Young About Improving The Color Of Your Smile
If you want to improve the color of your smile, reach out to Michael J. Young, DDS to discuss how a cosmetic treatment can lead to big, beneficial changes to your appearance. We are proud to help patients from Breaux Bridge, Broussard, Scott, Youngsville, and surrounding areas. To learn more about us, contact us today at our Lafayette, LA, dentist's office at 337-237-6453.