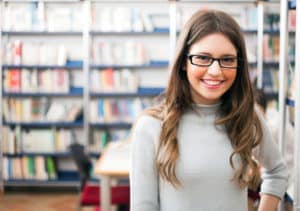 Graduation will be here before you know it. Of course, it probably doesn't feel that way as you head back into yet another semester of classes, extracurricular activities, job responsibilities, and on good days, a social life. Yet in very little time, you will be donning your cap and gown and walking the stage to receive your college diploma. It's an occasion many years in the making. Don't you want to make sure you look and feel your best, when that big moment comes? Cosmetic dentistry can help get you geared up to be a gorgeous grad. Better still, a cosmetic dentist can help ensure you start your next chapter in life with your best smile forward!

What's the Best Way to Achieve Your Best Smile?
If you have never looked into cosmetic dentistry, before, you may not realize how many treatment options are actually available to help address imperfections and to improve a smile's beauty.
Professional teeth whitening is one of the fastest and most common options; that is because staining is incredibly common with patients of all ages. In fact, many professional whitening treatments can help to lighten teeth by eight shades, or even more.
Of course, if your issues are related to the shape, size, or spacing of your teeth, you may be interested in more extensive treatment options, such as cosmetic bonding or porcelain veneers.
Bonding is another fast and affordable option, one in which the dentist applies a composite resin material to the teeth (the same kind used to create many modern dental fillings), and then carefully sculpts it to hide imperfections. After hardening the material using a special light, the resin makes for beautiful and strong smile improvements that can help create better smile symmetry, more proportionately shaped and sized teeth, and even to hide minor gaps.
Of course, porcelain veneers are another popular option for dealing with similar issues, because of the longevity veneers can provide. In fact, many people don't realize that dental porcelain is incredibly similar to natural tooth enamel, in that it is both strong and largely stain-resistant. So for patients willing to invest more upfront, veneers are a wonderful long-term option, one that can often be enjoyed for more than ten years, with proper preventive care!