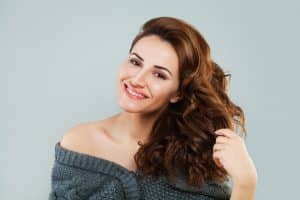 How much of an effect can your gum tissue have on your smile? Many people never think about their periodontal tissue when they contemplate their smile, but uneven or excess tissue can impact how you look. Through cosmetic dental work, you can actually improve on the appearance of your gums. A gum contouring treatment sees your dentist remove excess tissue, or reshape the tissue to address distracting asymmetry. Some patients who opt to undergo this treatment may also undergo additional work, in order to make a more dramatic change to their smile.
Why A Gum Contouring Treatment Can Be Good For Your Smile
If you have excess gum tissue, you may have a smile that makes your teeth seem squat, or short. Bumpy, asymmetrical tissue can also cause a negative effect on how you look. When your dentist safely removes undesired tissue, and evens out your periodontal tissue, it can make your smile look more natural. With teeth that look more appropriately sized, you can feel better about your smile.
Combining Gum Contouring With Additional Cosmetic Work
A gum contouring treatment by itself may not fix every issue you have with your smile. Some patients will choose to have additional work done on their teeth. If you have porcelain veneers placed after a contouring treatment, you can make a big change to how you look. Veneers can cover up many flaws at once, so you come away with a stunning, impeccable smile. Of course, you may prefer a whitening treatment, which will not require permanent modification of your teeth. If you are happy with your smile after a gum contouring treatment, you can certainly limit your dental work to this one procedure.
Talk To Dr. Young If You Are Interested In A Gum Contouring Treatment
Are you ready to improve your smile by taking care of unsightly periodontal issues? A gum contouring treatment, performed safely and precisely by Michael J. Young, DDS, can offer a positive change to how you look. Our office serves residents from Breaux Bridge, Broussard, Scott, Youngsville, and surrounding communities If you are interested in additional cosmetic work, Dr. Young can discuss your options with you. To learn more, contact us today at our Lafayette, LA, dentist's office at 337-237-6453.