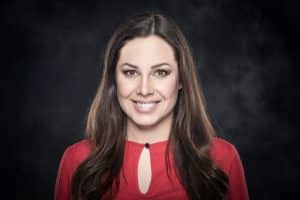 Your smile gap could be the consequence of a spacing issue between teeth. In other cases, a gap can be visible because of one unusually small tooth. Through cosmetic dental work, your dentist can find the best approach to making your ideal smile a reality for you. If you are unsure of how to best approach a problem like a smile gap, you can arrange for a cosmetic consultation. When you go in, your dentist can review the different treatment options available to you, and describe how a particular treatment might be best suited for your needs. If you have a gap, your problem may be fixable with clear braces, or with porcelain veneers.
How Clear Braces Work To Realign Your Teeth
Clear braces allow you to have your teeth straightened without needing bracket and wire braces. Both Invisalign and ClearCorrect are able to gradually move teeth thanks to custom-made removable clear oral inserts. However, you should know that in cases where your spacing issues call for a more involved adjustment, clear braces may not be recommended.
Using Dental Veneers To Hide A Gap In Your Smile
If you have a gap caused by a smaller than appropriate tooth, you could benefit from porcelain veneers. Veneers are specially crafted to fit your teeth, and permanently adhered to them. Once placed, they help teeth look naturally flawless. In addition to adding size to a tooth, this treatment can cover up damage and discoloration. If the size of your tooth creates functional problems, your dentist may recommend having it protected with a dental crown.
Talk To Dr. Young About Cosmetic Care To Address A Smile Gap
Reaching out to Michael J. Young, DDS about a smile gap can lead to a big improvement to your appearance. Through one of the several available cosmetic procedures Dr. Young can offer, you could see a terrific improvement to how you look. Of course, you can also count expert care when you go in for a routine checkup, or if you need restorative work done after a dental problem arises. To learn more, contact us today at our Lafayette, LA, dentist's office at 337-237-6453. Our practice happily welcomes patients from Breaux Bridge, Broussard, Scott, Youngsville, and surrounding communities.