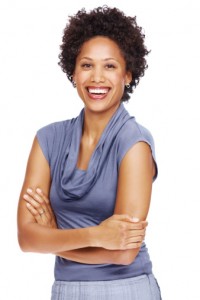 You say you want a "better" smile, but what specifically do you want? At your consultation with Dr. Young, your Lafayette dentist, can help you determine what you like and dislike about your smile, as well as the cosmetic procedures that will deliver your desired outcomes. Here are some of the most common complaints about smile imperfections, and the cosmetic options Dr. Young offers to correct them.
"My teeth are discolored."
Teeth bleaching removes stains to give teeth a bold, bright appearance. Whitening can be done professionally by Dr. Young or with over-the-counter treatments. Dr. Young uses the Zoom! Whitening system for one-visit in-office bleaching, or custom-fitted trays with prescription whitening gel for bleaching at home.
"My teeth have flaws."
Bonding can correct chips, cracks, discoloration, or gaps. A composite tooth-colored material is bonded to the surface of your tooth to conceal defects. The bonding material is custom designed to match natural tooth structure, so it blends perfectly with your existing teeth.  Dental veneers are another cosmetic option that can transform your smile to look brighter, straighter, and more symmetrical. Dr. Young offers traditional porcelain veneers and LUMINEERS by CERINATE, a no-prep option that works well for some cases.
"My teeth are crooked."
Invisalign clear braces can straighten teeth without metal brackets and wires. Custom-made, clear acrylic aligners use gentle forces to reposition teeth in less time than traditional braces. Invisalign aligners are invisible and removable. They're a popular choice for professionals and image-conscious teens.
"My teeth are missing."
Dr. Young offers three secure and durable options for replacement teeth. Dental implants replace the root of your missing tooth. A small titanium fixture is planted into your jaw bone. Once your bone grows around the implant, Dr. Young will attach a crown or replacement tooth to the shaft. Dental bridges also fill in the space from a missing tooth and use the adjacent teeth for additional support. Full and partial dentures can help replace more than one missing tooth in a row. Dentures fit over or around the remaining teeth in your mouth to give the look and feel of a complete set of teeth.
Dental crowns, veneers, whitening, implants, bridges, and other cosmetic services can help give you the smile of your dreams. While cosmetic techniques are designed to help improve your smile visually, they can also restore problems to make your teeth healthier and easier to clean. Contact our Family and Cosmetic Dentistry office in Layfayette, LA, at (337) 237-6453 to change your smile's appearance.